What's new? 2 updates a day? I'm not surprised.
I was going to make something different in terms of cake flavours. So I was thinking of a tong yuen (glutinous rice ball) which usually has peanuts and ginger soup. Some tong yuens do have black sesame ones, hence this cake. Well actually I was just trying to finish up the black sesame paste before it gets moldy.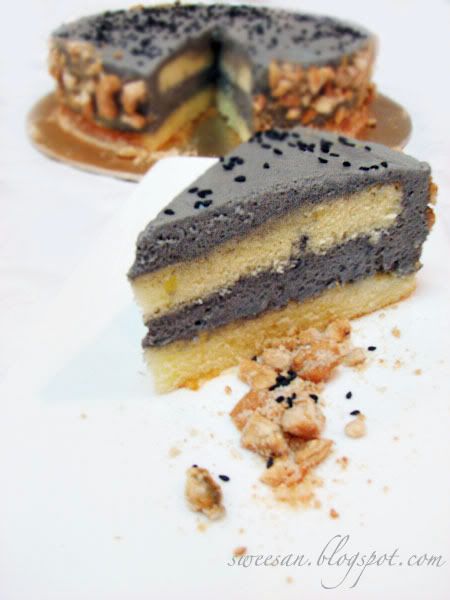 Ginger Sponge Recipe
230g Flour
6 eggs
200g sugar
30g glucose
60g butter, melted
90ml milk
1/2 to 1 tsp grated ginger

Method
1. Whisk eggs, sugar and glucose over bain marie till the eggs are warm.
2. Pour into a mixing bowl, add in grated ginger and continue whisking at high speed till double in volume. Reduce speed for a few minutes and get to ribbon stage.
3. Gradually fold in flour.
4. Mix melted butter and milk together. Gently fold and mix into the batter.
5. Pour into 8″ cake tin. Bake at 170 C for about 30-40 minutes till done.
6. Once cake is done, remove from the pan and place on a wire rack to cool.
7. Torte cake in half

Black Sesame Mousse Recipe
1.5 tsp powdered gelatin
2 tbsp cold water
320g milk
2 tbsp black sesame paste
3 egg yolks
1/4 cup caster sugar
1/4 cup corn flour
250 ml whipping cream

Method
1. Whip cream to medium peak and leave in the fridge.
2. Mix gelatin powder with cold water and let it harden for a few minutes. Set aside
3. In a small pot, add in 3/4 milk and bring to boil.
4. In a mixing bowl, combine 1/4 milk, black sesame paste, egg yolks, caster sugar and corn flour. Whisk everything to combine.
5. Pour in hot milk into egg mixture and stir with a whisk.
6. Return the whole mixture into the pot and cook for 2-3 minutes till the mixture has thicken. Stir with whisk at all times.
7. Melt the gelatin in a microwave or double boiler. Pour into the black sesame mixture and stir to incorporate.
8. Cover the mixture with a cling firm till it's a little cooler (about room temp to warm).
9. Combine whipping cream into the black sesame mixture gradually till everything is well combined, use immediately
10. To assemble, place a layer of sponge as the base in a cake ring. Soak with some sugar syrup. Pour half of the mousse into the ring.
11. Trim the 2nd layer of cake to a smaller diameter. Place sponge on top of the mousse layer. Soak with some sugar syrup. Pour in the remaining mousse and level it. Chill for 3 hours or till set. Remove from cake ring
12. Crush some nuts and cover the sides of cake.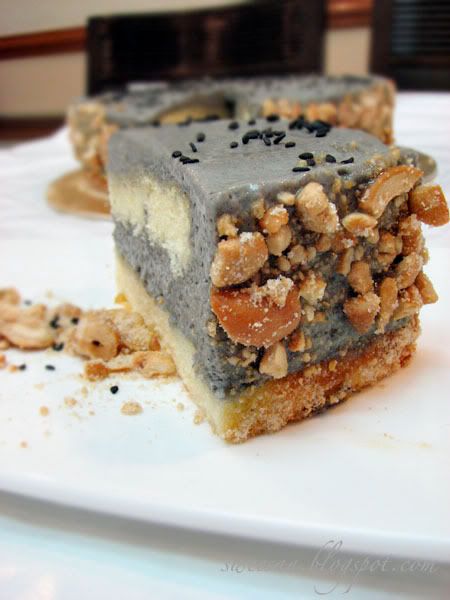 The additional ginger into the sponge gives it an extra tangy-ness and tones down the smoky after taste of black sesame. And because ginger does have the spicy effect, it does give an illusion that the cake isn't too sweet for those who don't have a sweet tooth.