Bangkok is quite well known for its sky bars. But for some weird reasons, when you look upon Bangkok's skyline, there's nothing too interesting except for the Chao Phraya river. Maybe Bangkok should have a tower or something significant, just like KLCC or KL Tower for Malaysia.. But nevertheless it's still a breathtaking view especially when you're 63 storeys up high !!
We went to the Sky bar at Sirocco at Lebua State Tower this time. Last year, we went to Vertigo & Moon Bar at Banyan Tree Hotel (will dig out some photos and blog abt it.) Both are equally beautiful and they're at 63rd and 61st floor, so you bet the view will be amazing!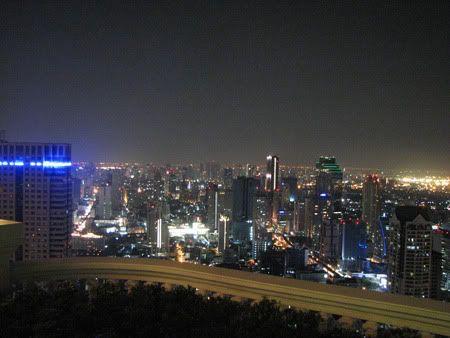 Well if it wasn't for Chao Phraya River, I wouldn't be able to recognise which country's skyline this is. For all you know, it could be Singapore or KL. HAHAHA no wait, it's Bangkok, I'm serious.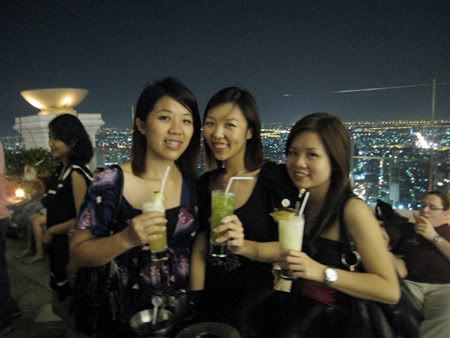 The waiting area, alot of couches and high tables for waiting. Though I don't really know why they want us to wait here and not to go the bar straight..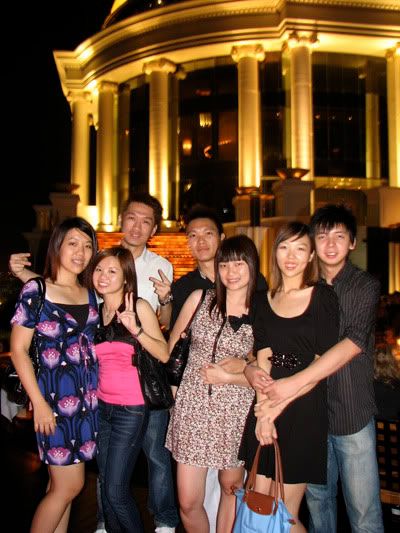 Behind us, is The Dome, the world's highest al-fresco restaurant. If you're afraid of heights, consider yourself warned!! The wind is strong but the view is amazing. To go to the Sky bar, one needs to wear formal or should I say, no shorts, slippers, and torn jeans. They're very strict in terms of attire, you don't need to dress to the nines with suit and long dresses but just so as long as no shorts, slippers or torn jeans, you're good to go.
They also have some pretty fussy rules that you only can take photographs at certain places and not anywhere else. *grunt*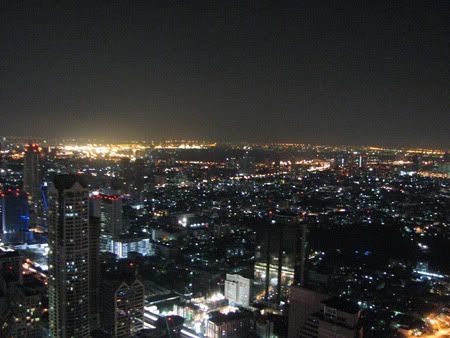 The views of Bangkok were taken at a suspended bar, 63 floors high up. It's pretty scary !!