I have this secret obsession towards passionfruit. The sourness of it is so refreshing and the seeds gives it a whole new texture. I love eating them with yogurt and pavlova. Maybe ice cream too lol.. Best part of all, it last for quite a while if you keep them in the fridge.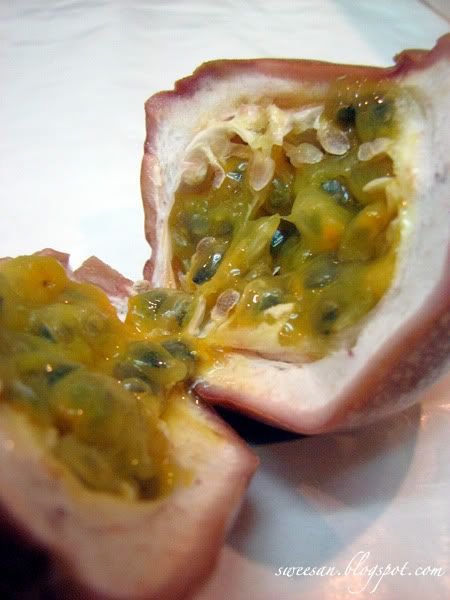 yummy goodness inside yo!
Since passionfruit are often sourish, I decided to make some pavlova to go with it. Pavlovas = sweet max. Pavlovas are often just baked meringue and topped with summer fruits and cream.
Pavlova Recipe
(makes 10 palm sized ones)

4 egg whites
1/4 tsp cream of tartar
250g Caster Sugar
1 tsp Vanilla essence

whipping cream and lotsa fruits

1. Preheat oven to 180 C. Lay baking sheet with parchment paper. You can draw circles if you want to get a consistent size, otherwise just eye ball it.
2. In a mixing bowl, whisk egg whites and cream of tartar till foamy and not transparent. Increase speed and continue whisking till soft peaks form.
3. Gradually add in caster sugar and whisk till meringue is glossy and shiny. Add in vanilla and continue whisking. The meringue should be somewhat stiff peak.
4. Use spoon to scoop them out to the tray, or use a piping bag to pipe them out. Make an indentation in the center so there is space to put in the cream and fruits
5. Put the tray in the oven, turn down the heat to 150 C and bake for about 35 minutes. Turn off oven and leave them inside the oven for another 20 minutes or so to dry them out. Once they're baked, remove them from the oven and cool.
6. To assemble, whip cream and pile on fruits. Assemble them just prior to serving. If you're not serving them, they can be kept in a container for a week.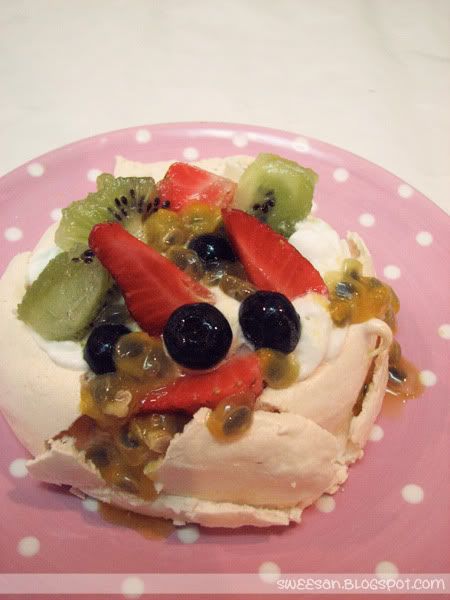 I ate this for supper, can u believe it? haha (if you remember seeing them on twitter some time ago)