Well sometimes I really like making the replica of something; like food for example. Tomorrow, I'm gonna make a bowl of vegetarian longevity noodles for my mum's birthday on Sunday. I'm not really sure how I wanna do it yet, but oh well I'm sure it's fun..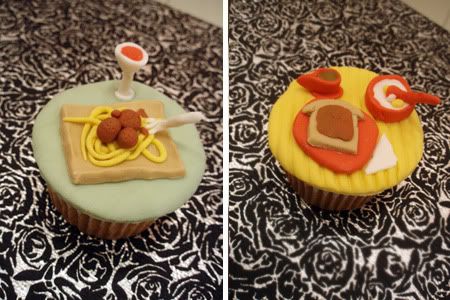 spaghetti and meatballs on the left. toast and 1/2 boiled egg on the right.
And these cupcakes are made quite a while ago for a whole-day demonstration. Worst part was, because it was an whole day event, the visitors came sparsely (well that's if there are any). We were located at the utmost corner of the department where no one would really notice us ? There are pros and cons after all. We get to do whatever design we want on the cupcakes. Since no one was really looking at us, we decided to do something more intricate. Like… noodles and fried rice. Hahaha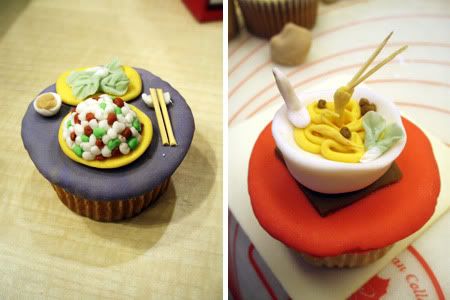 fried rice with bok choy on the left. Noodles soup with hanging chopstick on the right.
With all these extra sparing time, I came out with a way to make the chopsticks hanging. There actually is a toothpick / support right in the middle where I then wrap it with fondant to look like noodle-being-picked-up and glue the other visible "chopstick" to it. So it looks as if the chopstick is hanging on mid-air, or maybe there's an invisible hand lol.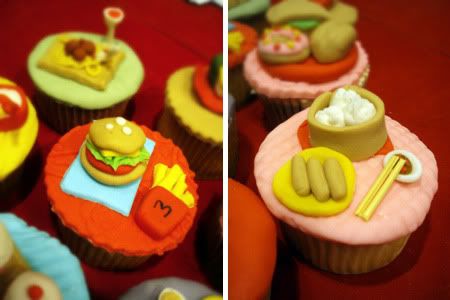 hamburger and fries on the left. steamed char siu pau and spring roll on the right.
If u see in the background, there's donuts, sandwich and bread rolls. Lol .. I'd love to make them 3d; so at least I don't have to strain my eye 😉