The first time I tried MK Restaurant was earlier in Feb, when I went to Bangkok. My friend did mention that the roast duck is nice for a food chain. So we went lo..
This time around in Hat Yai, I brought my parents to MK in Big C. Big C is like carefour / giant / tesco in Malaysia. Some of the things there are like freak cheap. The l'oreal compact powder refill is like 40% cheaper than M'sia's. Boo. and Pocky sticks are like 150 baht only..
So what's in MK Restaurant. Well basically it's a place that serves steamboat and some roasted meat on noodles. We tried the steamboat / hotpot and the roasted duck.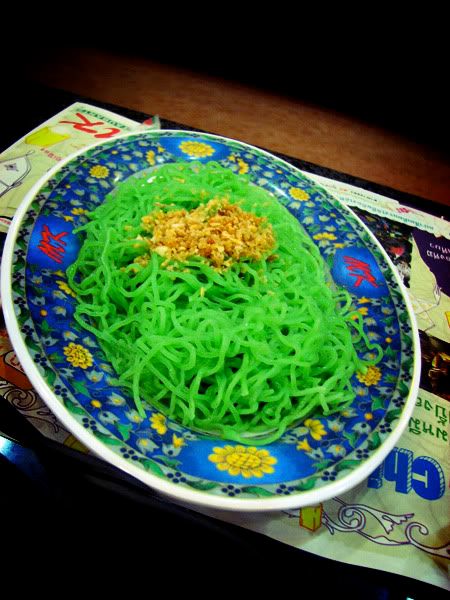 No prize to guessing why it's SO GREEN. This was their version of wanton noodle. It did taste spring-ier than the normal wanton noodles but it's neon green, it's freaking scary.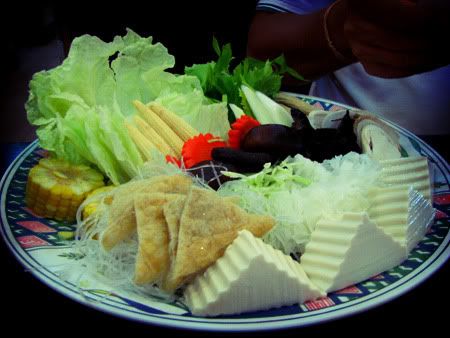 They do have occasional promotional sets / platter. This one was the vegetarian one which was good cause my mum is one.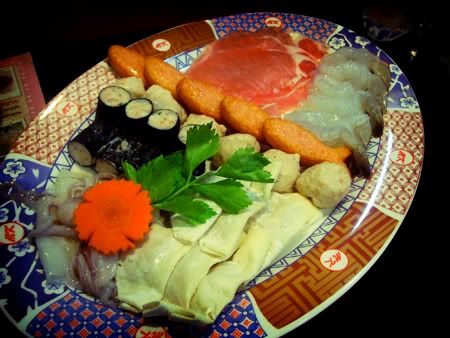 This was eaten early in Feb in Bangkok. Was probably one of the value sets as well. Compared to the steamboat variety here, MK has fresher produces like sliced meat / prawns / squid instead of the norm frozen fish ball or processed fish-something.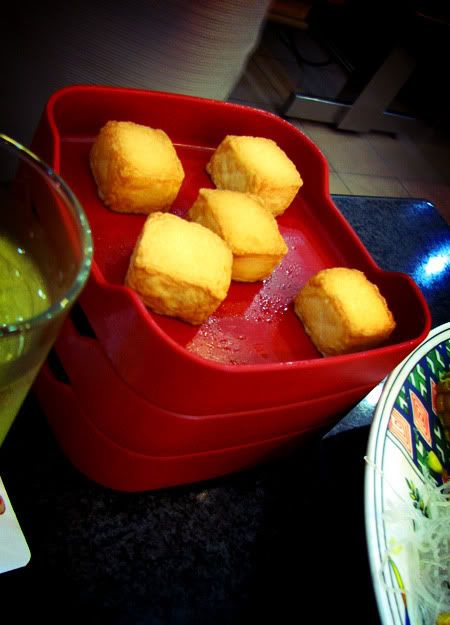 What's cute was the stack-able plates that saves so much more spaces on the table. Clever!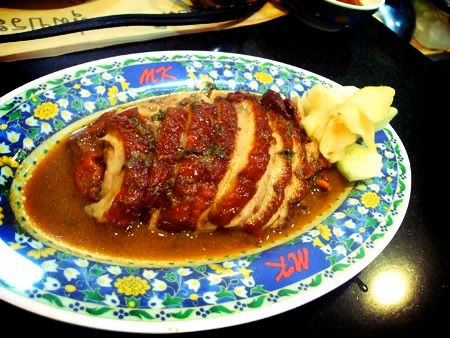 And the roast duck. I ate it twice and the second time, the duck was slightly fatter and thus not so much meat. But it wasn't dry like how sometimes roasted duck can be. The sauce was great to go with.
MK can be found in most malls / shopping centers.
Other eateries in Thailand
Bird's Nest & Shark's Fin, Hat Yai
Chicken Rice, Hat Yai
Glutinous Rice, Hat Yai
Lenotre Patisserie, Bangkok
McDonalds
Tau Foo Far, Hat Yai