My love. If there's only one thing I miss from Bangkok, is Lenotre Actually I cannot decide if it's the shopping in Platinum Mall and Chatucak Market or Lenotre. So I decided to cross the first line. But then again, if it's about the food I would pick Lenotre. Actually I know there are other great desserts in Bangkok but not much research is done. Even Lenôtre was a hidden gem we found while walking in Siam Paragon. boohoo
Anyway, I actually went to Bangkok in Feb early this year. I will be going again in Feb 2010 so hopefully we'll be able to visit more patisseries and bakeries! woot
And I need to bring my camera for fixing.. I miss my Finepix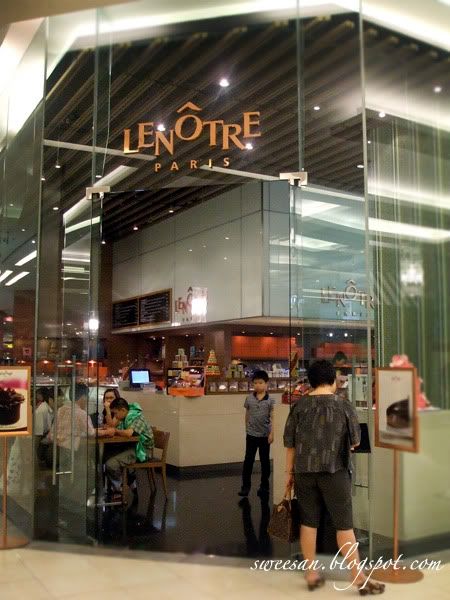 What was more interesting was that the Thais enjoy desserts more than Malaysians would do ? Fine patisseries and cakes which-are-not-made-of-just-sponge-and-non-dairy-whipped-cream seem to be a bigger trend both north and south of M'sia (Bangkok and Singapore are what I'm talking about) If I open a shop like this, will it survive? See even Bakerzin is not around in M'sia anymore??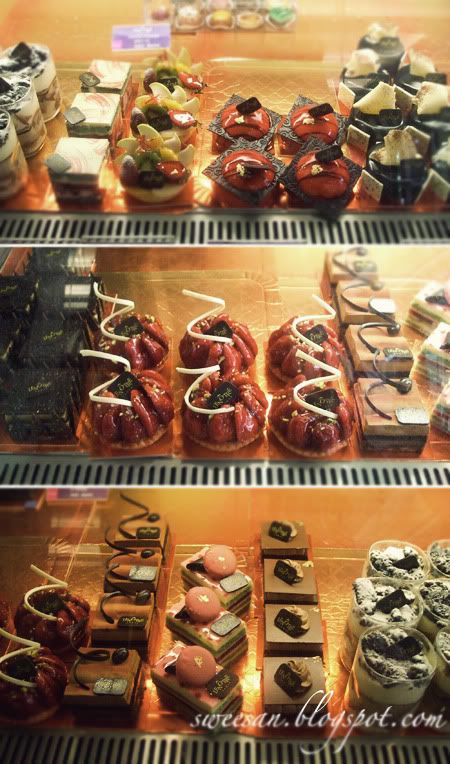 Less of sad stories, more of happy moments. Dessert stores to me are like game shops for boys and designer boutiques for rich women. I find it very mood-calming and I'll just turn into a happy camper. Sometimes it doesn't need to be an expensive dessert store (actually it does hahaha sorry) it just needs to taste good and made of real stuff. I am bias just like that.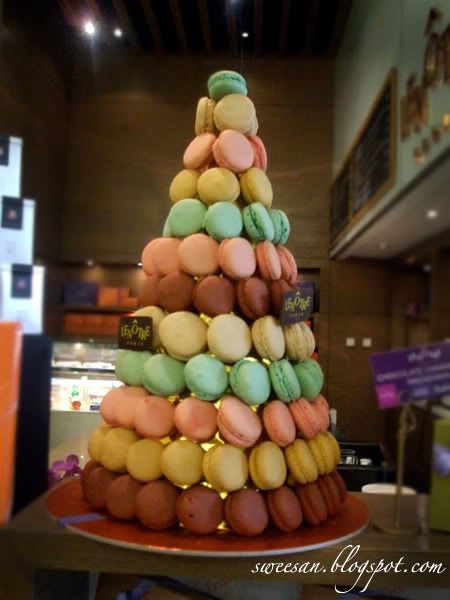 AH Macarons. They must make an appearance in French patisseries. And it's so frustrating that I can't get it right ggrr I will try again.. ggrr

I ordered the platter instead of the individual pieces. I CANNOT make a decision when I'm in shops like these. I take 30 mins just to think what I want to eat. Just because I'm usually the ONLY one who eats it and I want to make sure it's worth it. Because it's so long ago, I can hardly remember what it's called but the cake was Emeraude. It was the green that attracted me. Pistachios are the 2nd most loved nuts after hazelnuts. There's no 3rd, btw. Or maybe it was the reddish hue, just like what happened in 2am dessert bar?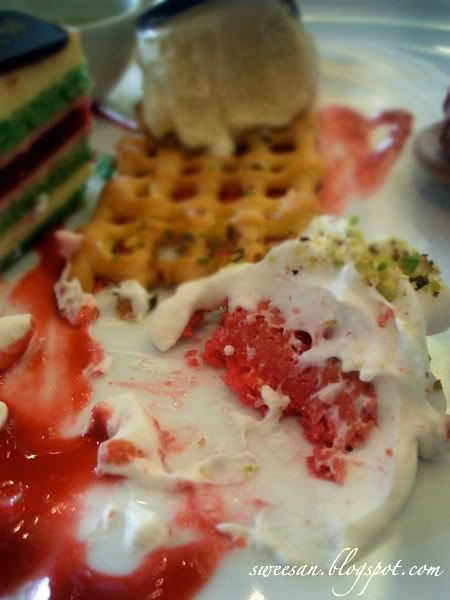 Layers of soft nutty pistachio joconde sandwiched with rich vanilla bavarian cream with a layer of raspberry coulis jelly. On the other corner was a dense almond tart with fresh raspberries. The thing about platter is that you get a few components and it doesn't make you as full as eating 2 cakes at one go.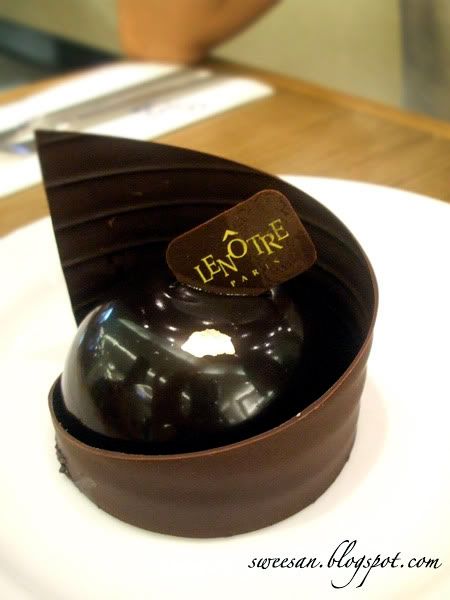 Well the story was that me and one of my friend went to Lenotre in the afternoon. And when we met up with 2 other friends, I mentioned to them about how great the place was and they decided to go there on the very same night (or was it the following night) to try. This was what they tried. Volute Chocolate. An exquisite dome of light chocolate mousse covered with rich smooth ganache and a hidden green tea filling inside. If you want to eat gold, try this 😀
I can't wait to go back to Bangkok !
Lenotre Siam Paragon
| | | | |
| --- | --- | --- | --- |
| | | | G floor Siam Paragon shopping Center, Rama 1 Rd.,Pathumwan, Bangkok 10330,Thailand |