Selamat Hari Raya Aidilfitri to all Muslim Friends Have a great weekend and drive safe 🙂 xoxo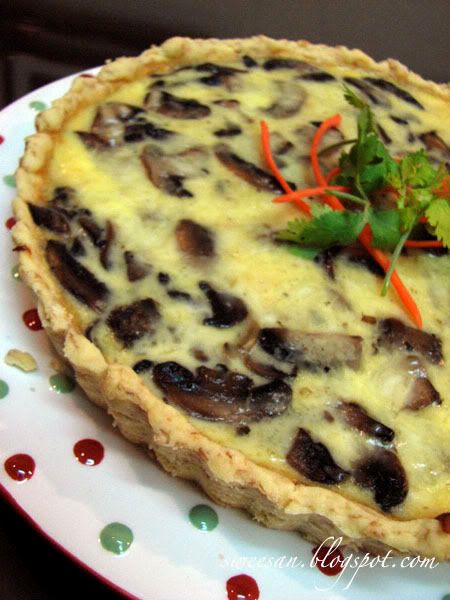 Okay, so who's having a week off?
I'm off Sunday till Wednesday and 5 cakes next week! fuh..there's a handbag, 2 tier hydrangea cake, foofa cake, ice cream cake and mix fruit sponge and something special!.. waaoooww I like that
Anyway, I just had the itch to bake something today but not something sweet. Actually I was craving for a cheesecake but … nope, can't eat. So I made something savoury instead.
Well honestly, I'm not the greatest fan of quiche. Pies or vol au vents make more sense to me..
But I was grocery shopping and came across some nice white mushrooms. I still remember the days in Sydney when I go grocery shopping. I just wished back then, I was cooking for a family of 8 or something cause everything there just looks fresher and greener and cheaper.. So no canned mushrooms back then (not this time either)
Mushroom Quiche

Crust :

1 cup plain flour
1/4 cup wholemeal
120g butter
1 egg yolk
2 tsp ice water

Fillings:

400 g of mixed mushrooms, (white, shiitake and Portobello)
2 pips garlic – chopped fine
1 tbsp of olive oil
60 ml cream
2 eggs
100 g grated cheddar cheese & mozarella
salt & black pepper

Method:

Sift flours into basin, return husks from sifter to basin, rub in butter, add egg yolk and enough water to just combine ingredients. Cover, refrigerate 30 mins. Roll out the pastry dough and transfer to a 9" flan tin. Bake blind for 12 mins at 175 C. Remove from the oven and cool the tart shell.

To prepare the fillings.

Blend the cream and eggs together until smooth. Heat olive oil in a frying pan and sauté the garlic fragrant , add in the mushrooms and stir fry for 10-15 mins until they are tender and any liquid has evaporated. Add salt & pepper as per taste.

To assemble : Layer ½ of the mushroom mixture, half of the grated cheese mixture on the tart shell , repeat the layer process and fill up with the cream and egg mixture.
Bake at 170 C for 20-30 minutes.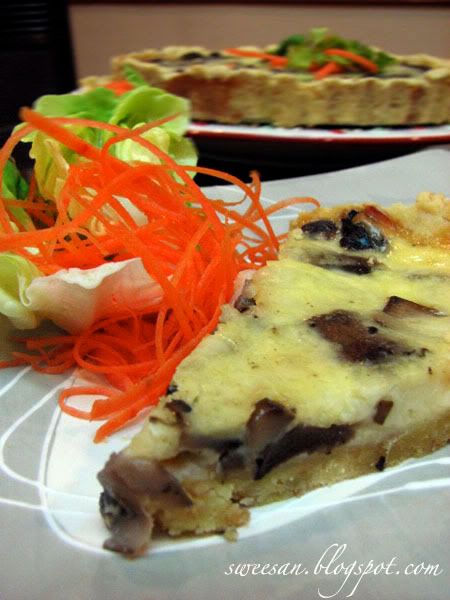 Now I feel like guacamole and baked potato skins… ppfftttt