Day 2 of eating begins. Well actually the main reason I was in Singapore was to visit the FHA 2010. It was the same as the one in 2008, probably more stuffs. But I met a LCB friend whom I haven't seen since I left LCB / Sydney !! That's like way too long. And to meet someone you know in a fair as big as this, it's pretty damn cool. Ok lah I actually bumped into a few more other people along the way. But nevertheless this time around in the fair, I kept my hands away from brochures or pamphlets or any booklets of any sorts. Because I'm just not interested in carrying way too many things (learnt from experience)
Ok, so first thing in the morning. Breakfast.
Initially I was planning to go either Epicurious or Prive Cafe in the morning. But turns out Epicurious doesn't serve their Eggs Ben during weekdays, and Prive opens a little too late for me. I left my friend's house at 7.30 because she needed to be out by then. Nothing a little google can't do, I came upon this little cafe called Kith Cafe, which opens their door at 7am. bingo!
Watermark is like this uber cool loft, very boutique-ish and expensive looking. For as long as I was at Kith, their customers are mostly residents, and expats. I was probably the "I don't live around here" person there.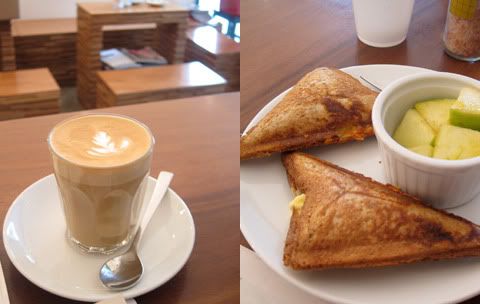 Latte $3.80; Bacon Scrambled Egg Cheddar Toasties $5.50
I was determined to waste some time there (because I know FHA will take alot of leg energy and it doesn't open till 10am.) So I took my very own sweet time. It's a very small cosy cafe, but they had quite a menu. From tosties to sandiwches to loafes and fresh juices. It's as big as a black board. I opted for a latte, which came in smooth and not so milky (I like) and a toasties with bacon, scrambled egg and cheddar cheese. Gave me an idea actually. These could be easily made at home with the sandwich toasting machine thingy.
So it was time to head for the expo and off I go.
Didn't take any pics from FHA cause…… forgot .. lol
Anyways, a couple of hours later I was really tired, and I decided to go elsewhere. Took the train to Bugis Junction and had Pepper Lunch Express there. I've been wanting to try Pepper Lunch here in KL but just never had the chance or coincidence to. Furthermore its like freaking expensive 20.++ In the Bugis food court, it was only $6.40. Ok it's dollar to dollar. The Singaporeans probably earn more in dollar to dollar in certain industry, but why their food so much cheaper!!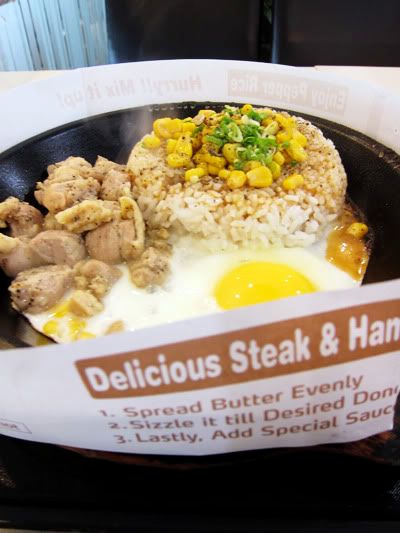 Chicken Pepper Lunch with additional Egg; $6.40 I added alot of the brown sauce and garlic soy sauce. Yum!! So good!! Can I make this in claypot!!?? HAha I've only used my claypot once 🙁 Did a little shopping in rubi shoes by cotton on there. Haha so cheap !!! $10 only !!! crap M'sian Ringgit..
I was dead tired and seriously wanted to find a place to sleep or go for a massage lol. But oh well, continued walking around instead. Oh then I went to Liang Court; next to Clarke Quay. Oh the Japanese grocery store Meidi-ya is awesome!! Over here, Meidi-ya is a bakery lor, but their bread ok la not bad. But just across the strait, it's a freaking awesome grocery store!! In which it was where I found the Sakura Matcha Kit Kat incidentally. 😀 😀
So my purpose to Liang Court was to try the ramen and mazazu crepe. But I'm so full that I'm only able to fit in desserts Hahaha Really. So haato makes the first stop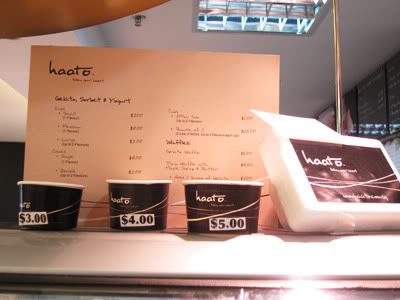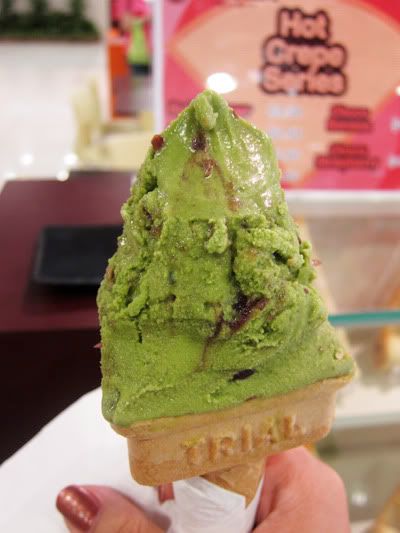 In the end, I got the Matcha Red Bean Ice Cream in a cone $4.00 It wasn't as good as I thought it would be. It was a little icey and grainy for me. The whole Liang Court was exceptionally quite, and McDonalds probably had most of the visitors.
Got the ice cream, walked around, realised there's gonna be at least 2 more hours before my friend comes to meet me. Fatigue was my middle name that day, I didn't want to walk anymore. So I tah pau'ed Cream puff and Chiffon cake from Tampopo Deli and waited in McD with my book! Thank goodness for Kinokuniya, could kill some time off from me.
This is the Super Light Cheese Chiffon Cake $5.80 Ok la now you can kill me, how can chiffon cake be so exp!! pengsan. The messy cream and dirty box is due to the clumsiness way of carrying the box. Lol it survived a couple of hours actually, we kept it for supper.
The cream puff; $2.60 has a resemblance to Sydney's Cookie Puff. It's like cream puff but the top looks like a crumbled cracked cookie, hence the slightly crunchier pastry compared to normal choux pastries. The cream was sinfully creamy. Though I still prefer the M'sian Beard Papa's Cream Puff.
Soon after I met up with my friend for dinner at Brewerkz… Another post please ;P
Read my Day 1 post here
—–
Kith Cafe
7 Rodyk Street
Watermark a@ Robertson Quay #01-33
Singapore
Tel : 6341 9407
Opens everyday from 7am to 7pm
Pepper Lunch Express
Bugis Junction Mall
230 Victoria Street Level 3
Bugis Junction
Singapore 188024
Tampopo Deli and Haato
Liang Court
177 River Valley Road,
Liang Court,
Singapore 179030