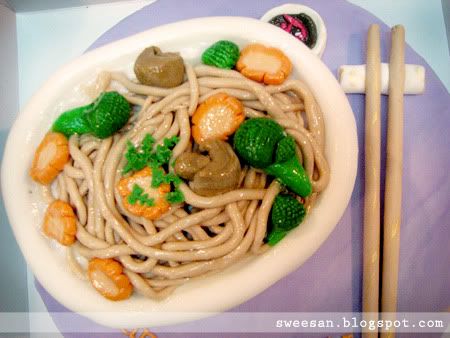 I don't know which is funnier, the cake that tried to be a roasted chicken or this bowl of noodles. When I am asked what's so fascinating about baking / cake decorating; I say this is. or trying to replicate something, or just make people put on the "what the…. " face lol.. Replicating stuffs isn't the most creative thing but hey, its fun!! I tried making shitake mushrooms but it didnt turn out like shitake mushrooms so I decided to make button mushrooms instead and I think it looked real!! The small little green stuffs are actually chopped coriander, just because my mum doesn't take scallion / green onions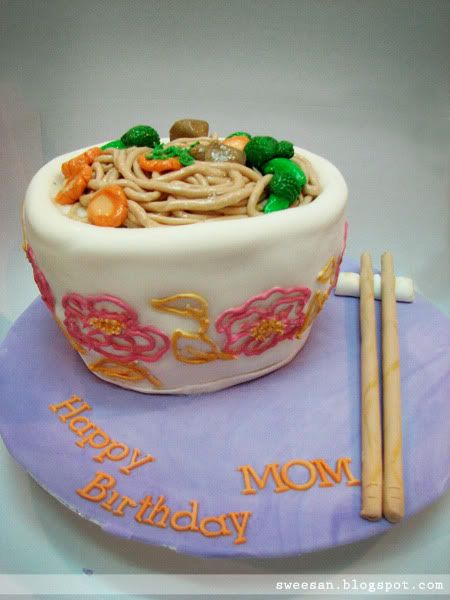 Okay maybe the broccoli were a little to green to begin with. Ok just incase u're wondering why it's a bowl of noodles for my mom's birthday ? This is suppose to be a bowl of "Longevity Noodle; a tradition thingy for Asians served during their birthdays. It usually comes with an egg but since this was a vegetarian version, no eggs. Although even if I make an egg, it's not really an egg anyway. LOL
Use the longest noodles you can find for this recipe; the length represents a wish for a long and happy life. The Chinese show respect for their elders at celebrations by serving them extra long noodles. Remember to serve the elders first.
Hrm does fondant noodles count ? hehe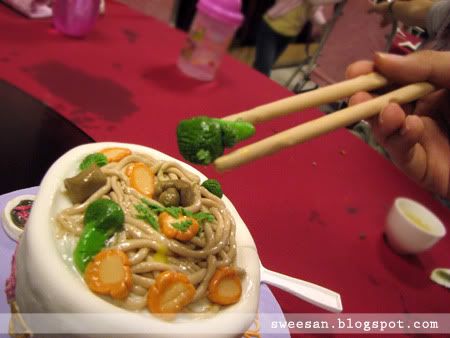 care for a broccoli ?
An extruder/clay gun and an airbrush machine is up next on my purchase list.. tee hee