nurseI remember my friend telling me once about how much she wanted to try Marvelous Cream in Singapore. Hence it looked kinda familiar to me as I stepped out of Somerset MRT station out to 313 at Somerset. Without much hesitation (ok actually I did hesitated a little cause it was $5.90 exp!) I went in and see what's it all about.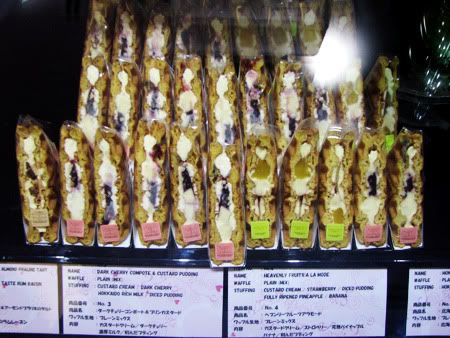 These are wafer sandwiched with whipped cream and fruit fillings like berry, mango etc. I actually wanted to buy a few of them and eat them while I'm on the way back to M'sia but since it can't last long enough I didn't get them. Boo I got something else instead.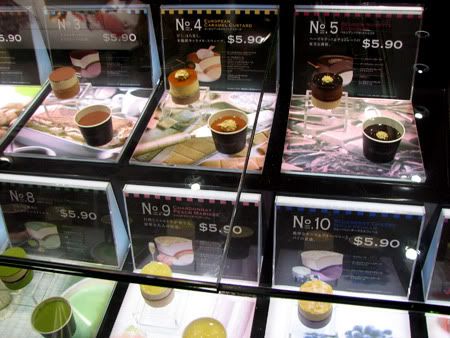 Well I always ALWAYS liked when these Japanese start making fake food look so real for display. It tempted me even more. So I bought the new Patissier Ice Cream Cake Collection. It's 100% made in Japan as said, well I couldn't be bothered if it was 100% or 50% made in Japan actually. They had 11 different types to choose from and boy, I was indecisive! There's Strawberry Shortcake, Chardonnay Peach Mariage, Creme Brulee Banana Confiture etc. I settled with Mont Blanc.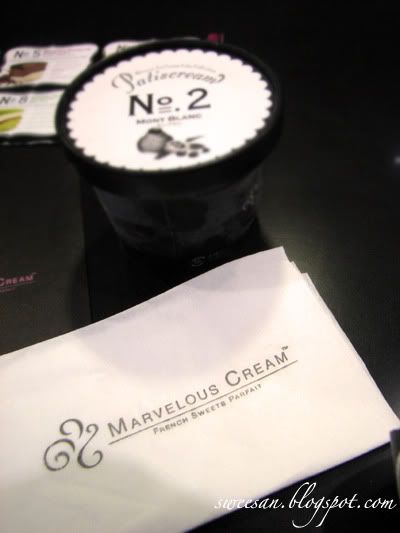 These Ice Cream Cakes come in little boxes, making them easy to bring around.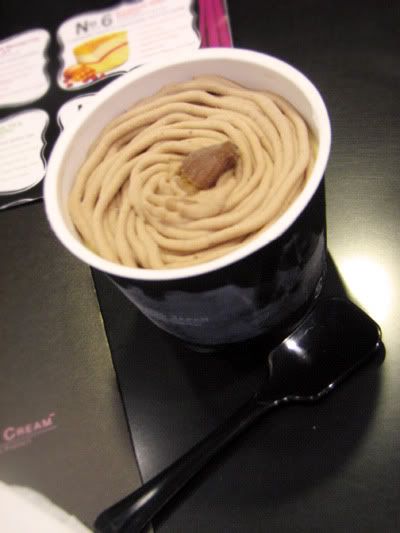 No.2 Mont Blanc (SGD 5.90)
There were 2 types of ice cream; Italian Chestnut and Custard. They were layered between sponge cakes and topped with a rich Italian Chestnut Cream and sweet chestnut puree. Hrm, I wasn't quite getting it actually, probably cause it was a little more mild that I preferred.
Then my neighbour from the next seat bought ice cream mixed with assorted toppings in a waffle cup. Damn!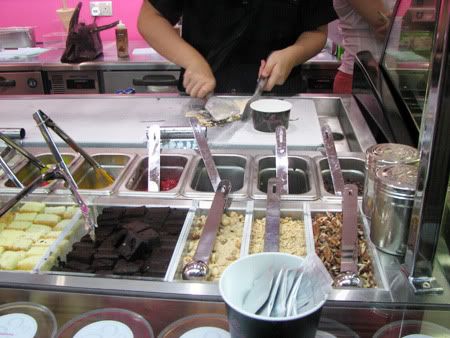 Choose the size, pick the ice cream flavour, add the toppings and it's mixed on a frosted marble top. WHY did I not see it! A lil too late *sigh* must be the eating-ice-cream-for-breakfast-thing..
Anyway, after seeing Cheesie's Angel's Heart Crepe…. *super drools* the next time I make cheesecake, I'll save a piece and wrap a whole slice in a crepe sandwiched with strawberries and loads of whipped cream..
Marvelous Cream
313 Orchard Rd
#01-38, 313 AT Somerset
Singapore 238895
Tel: 6834 4218
Check out other eateries too!
2am:dessert bar,Holland Village
Ben & Jerry's Ice Cream, Vivo City
Canele Patisserie Chocolaterie, Shaw Centre
Canele Patisserie Chocolaterie, Paragon
Cedele Depot, Ngee Ann City
Four Seasons Durian Pancake, Tiong Bahru Plaza
The Daily Scoop, Ice Cream Cafe
Tiong Bahru Market
MOS Burger, Bugis Junction
Maxwell Food Centre, Chinatown
Pie Kia, Tiong Bahru Plaza
PS : Check out the Chinese New Year Cupcakes! And don't forget to sign up for the upcoming DSLR Cake class on January 17th 2010