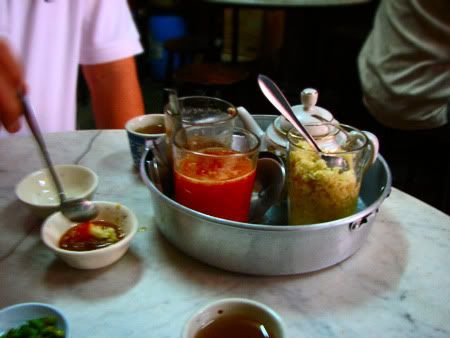 Condiments for the rice
Whether you are traveling down south or up north, you can find reasonably great chicken rice. So don't worry that you can't find something to eat..

The chicken rice shop is located near Odean Shopping Mall (which is a little further from Lee Gardens Plaza). Most tuk tuk drivers would know of this place as there are quite a number of foreign visitors that ask for directions to this shop. I can't remember the name of the road (actually more like I cannot find the road sign for it)
Anyway, the interior of the shop is so, so old that I think they never did any re-painting before. Well you can see from the picture I guess, but nevertheless, the chicken rice was awesome!
I'll tell you why..

Fragrant rice. As usual, rice served in Hat Yai never fails. So it's trusted to buy Rice from Thailand lah now ok.. But here I actually would like it even more if it had more garlic / ginger in it. Surely, the rice is not enough to win you over but …

the CHICKEN is what's great. I probably have not had such great chicken from chicken rice shops. The chicken meat was juicy and texture was just about right, not too hard or slimey. The amazing part was, the chicken has no fat. You know how sometimes the layer of chicken fat is so thick it's disgusting? Here, there's no visible layer of fat, which makes it a little healthier to indulge and best was that, the skin.. holy cow.. !! I never liked eating any chicken skin except from KFC's Hot and Spicy chickens. This could very well change my mind. The chicken skin was almost jelly like, slightly translucent on the thinner parts. NOT GELI AT ALL.
nom nom nom now I miss eating it.
I can guess that it may be located either on Thanon Sheutit or Kimpradit Rd but I don't want to trick you there. Hahah, just ask the tuk tuk drivers XD
Other post on Thailand
Bird's Nest & Shark's Fin, Hat Yai
Glutinous Rice, Hat Yai
Lenotre Patisserie, Bangkok
McDonalds
Tau Foo Far, Hat Yai