Remember the beach I posted a few days ago. It's located about 7km away from Tanjung Sepat's town. It's a pretty small town and the roads there are known as Lorong 1, Lorong 2 all the way till 13. On Lorong 3, there's a famous shop that sells Paus (steamed buns). The first time we went, we arrived at about 4+ pm but they just merely asked this question "Did u call for a booking ? Otherwise we're out of paus"
WHAT ??

It must be some kinda shop selling some kinda paus cause when we were there, there's at least 3 tour buses outside waiting for those. Three ok, and they can fit about 40 pax in a bus.
So the next weekend where we went to the beach again, (oh we actually went twice haha) my mum called and booked for some paus. Check out their number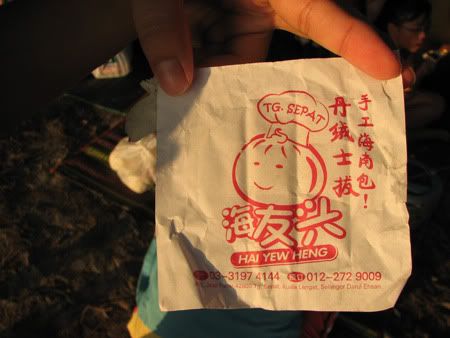 They have alot of paus from vegetarian to Pork and to Kaya. But I think one of the few famous ones were Mui Choy Pau (Preserved Vegetable)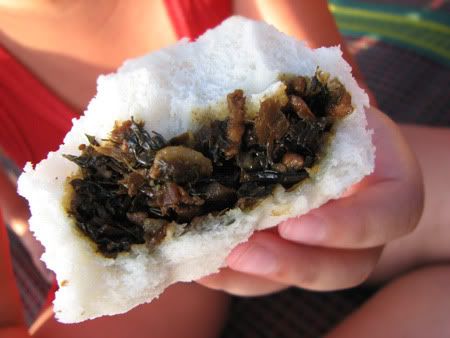 Their pau skin are made from unbleached flour which makes them a little yellow and the texture is very soft and light, despite it being a pau / bun. They were pretty generous on their filling. Their kaya was a little too sweet for me though (fyi I love sweet stuffs)
Also the next Lorong (Lorong 4) to the Pau shop, there's a place they sell coffee powder or beans I'm not sure. But there was alot of people.
And for dinner we went to this shop called Ocen Seafood Restaurant. I don't know if they purposely called it Ocen, or they forgot to put an "a" in it.
But anyway, it's located around Lorong 8-9 and it's just next to a bridge called The Lover's Bridge. Hrmm, it was built on stilts, very narrow and very VERY dark.
So okay back to the food.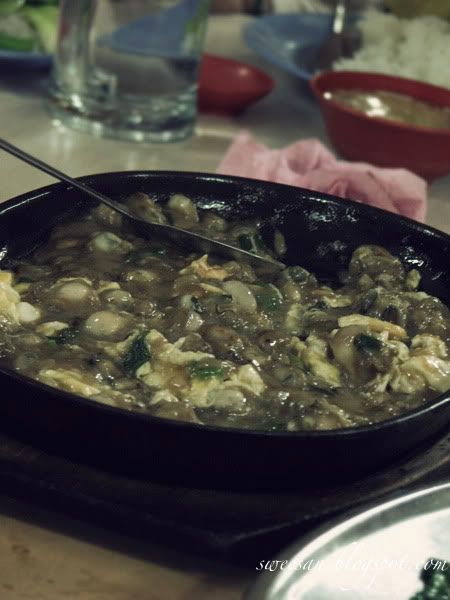 Hot Plate Oyster Omelet
. This was really good. Oh Jian / Oyster omelet tends to be a bit too starchy but the consistency of this was just nice. So nice that I managed to only get a spoon of it. ggrr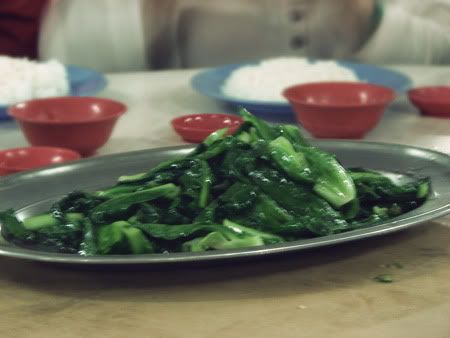 Green Vege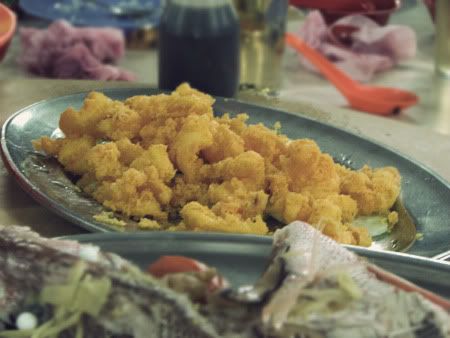 Deep Fried Calamari.
Wah this one's greeeaaattt !!!! The calamari was fried till just tender enough but not rubbery. The batter was oddly coloured tho, otherwise it's crunchy 🙂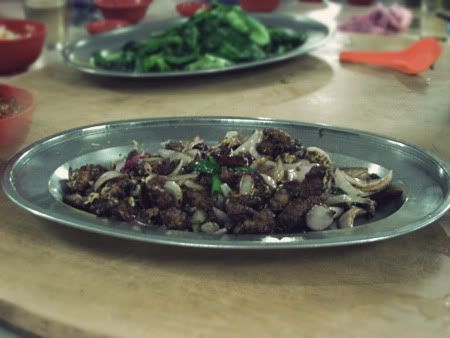 Kong Pou Mantis Prawn
. See, all of us were SO SO SO hungry that whatever came on the table we just grabbed it. But I am so nice, I took photos FIRST before eating myself. Their dishes came one after another very quickly so I didn't manage to grab the food! By the time I finished taking the photos, it was almost gone T___T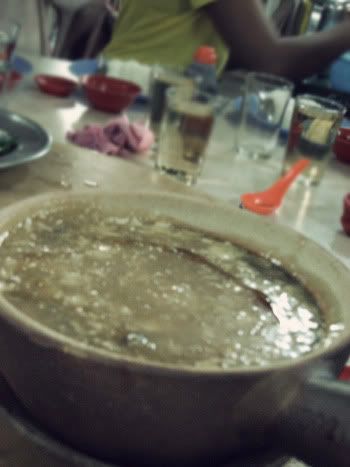 Tou Fu Kang with artificial Shark's Fin.
I think I feel better when I eat the artificial ones than the
real one
. Cooking them in claypot usually preserves the heat better, as starchy soups usually taste yucky after it's cold.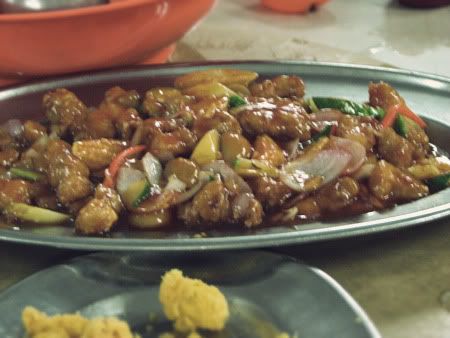 Sweet & Sour Pork
. Ok lesson learnt, never order sweet & sour pork in a seafood restaurant. Hahaha But to our defence, there were kids that couldn't eat spicy food lah ok..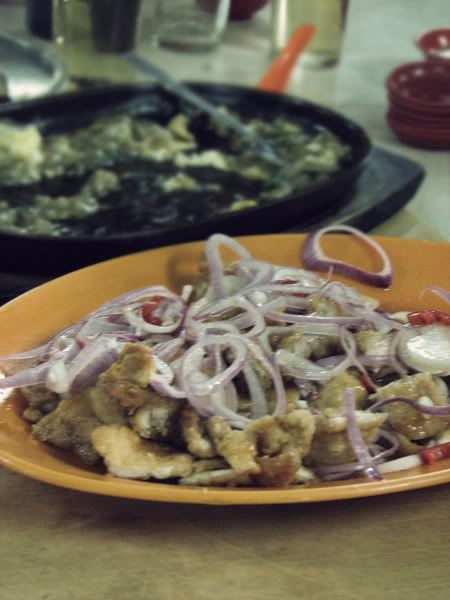 Chicken cutlet in Lemon sauce
. Ok this one very nice. The sauce wasn't too sourish and the onions added a little zh'ng to it. Yummy..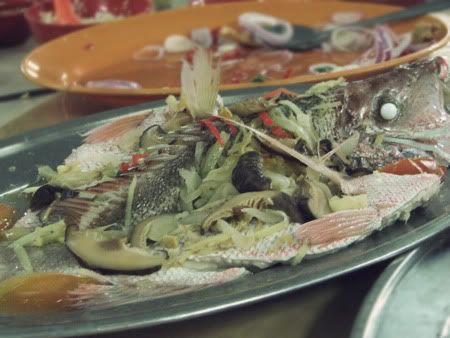 Teochew style steamed fish.
Heh Heh Heh, my fave style of steamed fish. All because I loved the combination of taste between the fish and the mustard greens and sour plum.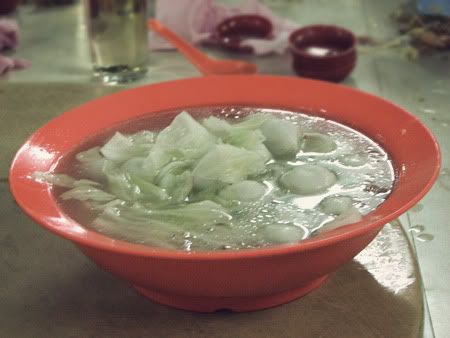 Fish ball soup
! The fishballs were very fresh and the texture was very "q". I am no fishball eating expert, infact I don't like eating fishball at all. Cause there was this one time, in a steamboat restaurant, I had a fishball, that was too hot my tongue was burnt. Yeah, just like that.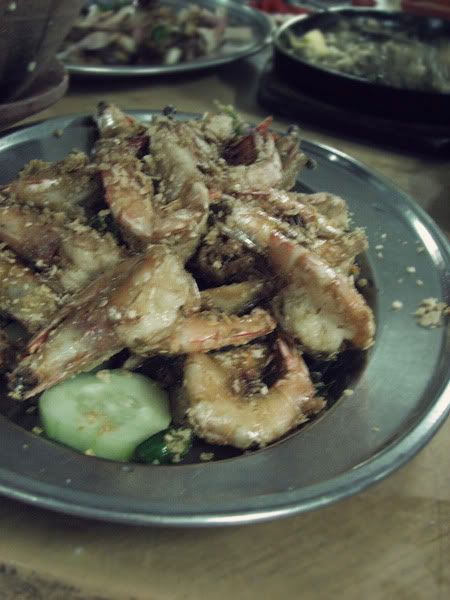 Buttered Prawns.
Wait, did I even eat this??

All theses dishes were quite big of a portion, we (there were 10 adults and 5 kids) managed to finish all except for the sweet & sour pork. The total bill came up to RM 231 (inc rice and tea), which was pretty cheap I think. Yum Yum, we'll probably go there again if we go to Bagan Lalang Beach again. Which I'm sure we will….
Hai Yew Heng
Tel : 012 272 9009, 03-3197 4144
405, Jalan Pasar, 42800 Tanjung Sepat
Kuala Langat, Selangor
Ocen Seafood Restaurant
Lot 109, Jalan Laut, 42800 Tanjung Sepat
Kuala Langat, Selangor