Ho Hey.. non-food related
but ad/movie related. tadaaaa How Chick or Dude are u ? hehe
Advertlets Presents "The Ugly Truth" Movie Screening this 7th September 2009!
Incase u haven't noticed yet, I'm a sucker for romantic comedies.. I love watching them even though it would be the same old story line. the predictable conversations or the happy endings.. They are a much better stress reliever compared to sci-fi or action pack movies. Oh let's not even talk about horror movies.. I can't remember the last time I watched one lol 😛
Plus, I've always been a fan of Katherine Heigl since Grey's Anatomy. I'm still waiting for the latest season to release! oh man! Either Izzy or George dies .. Oh wait….
It's "The Ugly Truth" we're talking about..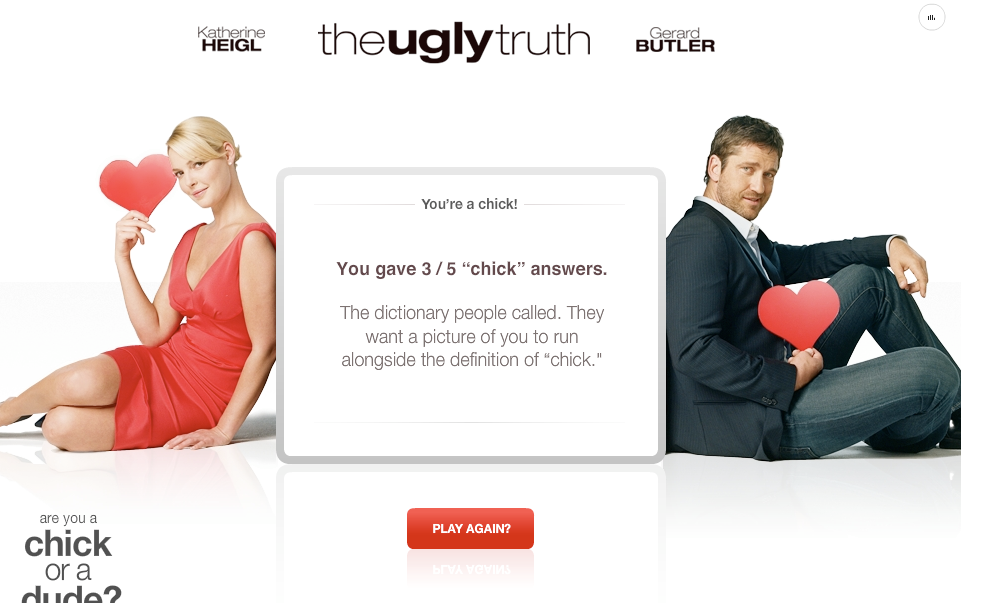 To get your share of the tickets, simply play the game. Not too difficult eh?
It says I gave 3/5 "Chick" answers and I'm a dictionary? Hhrrmmppp