Chinese New Year Cookie: How to make Green Pea Cookies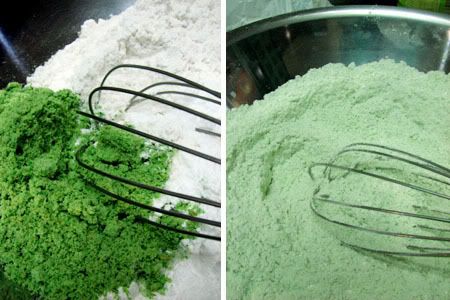 140g Green Pea, grinded (most of them sold in stores now are grinded)
60g Icing Sugar
1 tsp salt
170g Flour
½ tsp Baking Powder
½ tsp Corn Flour
100ml Corn oil (or other vegetable oil)
Measure and sift dry ingredients in a bowl. Use a whisk and combine the dry ingredients.
Add in oil to the mixture and mix thoroughly till a dough / ball is form.
Roll dough in small balls of 10g or however much your wish. The total weight of the dough was 500g, so I thought it was easier to make them at 10g each. Use the back / tip of chopstick and make a mark. Brush with yolk glaze or milk. (In this case I used milk to keep it entirely vegetarian for mum)
Bake in a preheated oven of 170 C for 15 minutes or until golden brown. If using egg glaze, the browning may be more apparent than just using milk. So I left mine in the oven and increased the top heat of oven to 190 for quick browning.
Recipe by
Swee San's Kitchen
at https://thesweetspot.com.my/how-to-make-green-pea-cookies/
Bad Behavior has blocked 1008 access attempts in the last 7 days.