Hahaha, I know, you must be thinking "WHAT??" (what is wrong with this girl)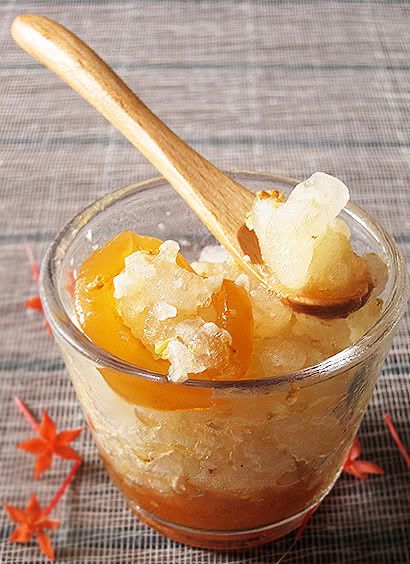 Lol, so I actually have a list of ice creams and gelatos to make, but sometimes I get too bored with it and want to make something refreshing instead of old' fat and creamy. I love cream, infact I have a secret obsession with cream (dairy please). Like, I would suddenly have craving for whipped cream or anything with cream. And the best possible cure is to the coffee stand and get like a mocha frap with lotsa whipped cream on top. Eekkk …. T___T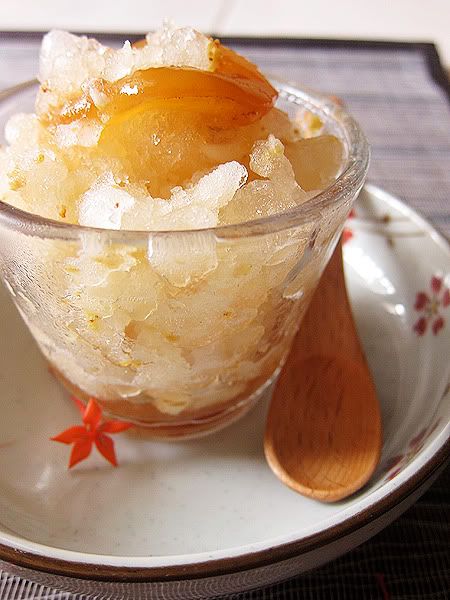 Ah but of course, lately the weather has been a bit cranky. Plus if I'm making cakes or doing some fondant work, I can't help but have the need to cool down. It's relatively OKAY cool in where I work fondant but u know, all those kneading and rolling and cutting does make you sweat a bit. So there and then, I decided to make a …. granita!!
Granita is simply crushed ice (ice kacang!!), made from a lightly sweetened fruit puree or another liquid. Granita is the simplest to make, requiring no more than a dish, a freezer, and a fork. No ice cream machine required! How well, I shall rest you Mr Ice Cream Maker.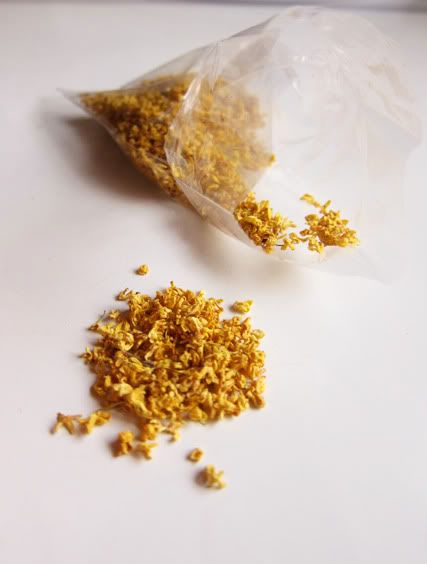 dried osmanthus
So granita it is. And I'm left to figure, what flavour should it be. I remembered that I have some Osmanthus from Wendy the last time I met her. This woman is mad (well, in a good way, mind you). Have you seen her double decker White Honeycomb Cake. It looks awesome (Wendy, when can we try? 😛 :P) So she gave us some dried osmanthus, (thanks again)
I'm sure you've heard of "Guai Fah Gou" in those Qing Dynasty TVB shows from Hong Kong, or any olden days TVB series. But if you haven't it's ok. Guai Fah Gou is Osmanthus Jelly. Osmanthus, ?? is a native plant in warm temperature zone, like Asia. It's flowers are very small, about 1cm long but pack with fragrance and very refreshing. They're usually used to make tea and desserts with these tiny dried flowers
Hence, I thought to make an Osmanthus Granita! That should be the base flavour, then I thought of adding some crunch, water chestnut. Voila!! Rock Sugar!! yeah…
I then went too far off, Honey Sea Coconut? Hrmm.. We'll see.