Ok so first, I saw the cake on Ivy's site. Then, it was linked to Tracie's site, and I've been hearing them since the foodblogger's meeting in Feb.. Finally I decided to make it. Oh that just reminded me, I have 1kg of cream cheese sitting in the fridge, what shall I do with it.. ??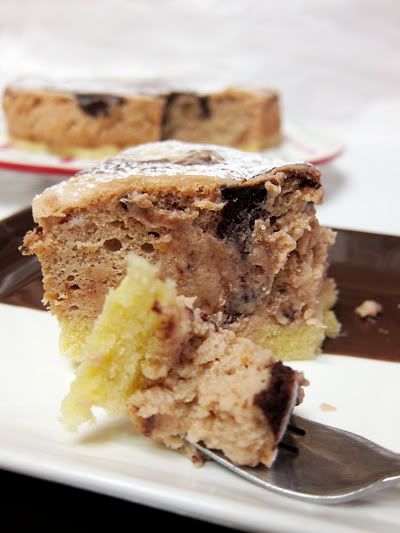 Well how it came about was that I used up the ingredients I had from the fridge, mainly the milk. I used HL's chocolate milk for the cake, hence it was light cocoa in colour and still milky. I also used a layer of leftover sponge just for additional height. Heck, why do I have so much leftovers LOL.
Light Chocolate Orange Marbled Cheesecake Recipe
(recipe adapted from TracieMoo then modified it)

250g chocolate milk
20g butter
125g cream cheese
1 orange, zested
50g cake flour
3 egg yolks
1 tsp Vanilla
3 Egg whites
1/8tsp Cream of tartar
80g Sugar
pinch of salt
1tsp Chocolate paste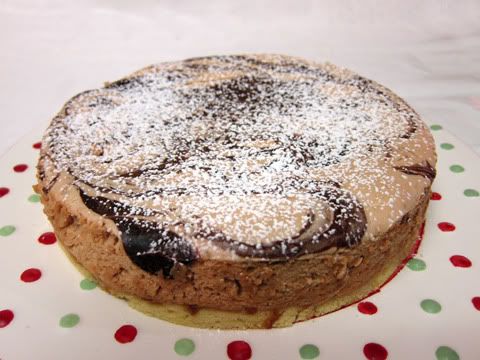 Method:
1. Line an 8inch pan with parchment paper.
2. Beat cream cheese and orange zest until smooth.
3. Place milk and butter in a pot and stir until it comes to a boil. Turn off heat.
4. Add in cream cheese and mix until well blended.
5. Incorporate flour into the mixture and whisk together over double boiler. Mix until it comes together and thickens. Stir in egg yolks and vanilla until blended.
6. Whisk egg whites until foamy. Add in cream of tartar and sugar. Continue to whisk until it reach soft peaks.
7. Combine the two mixtures of egg yolk and egg white. Gently fold in with a rubber spatula.
8. Place a layer of sponge at the bottom of pan Pour about 3/4 of the mixture into prepared pan. Mix the remainder with chocolate paste then drizzle all over to cover the batter. Use a knife to make swirls for the marble effect.
9. Bake in a water bath at 160C for 50-60 mins or until a testing skewer comes out clean. The top should be golden brown. Remove cake from oven and pan immediately to cool on a wire rack. Slice only after completely cooled.
When baking with water bath, the water level should only be about 1-2cm as its main job is to provide moisture to the cake. Otherwise you can also place a bowl of water in the oven and bake the cheesecake without water bath.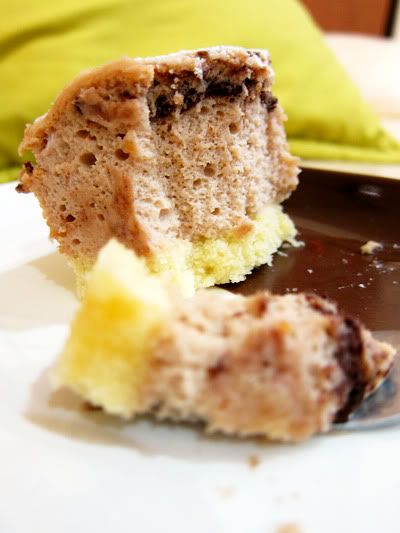 Well I must say that this cake is the fastest to finish from my house because of it's lightness. Cheesecakes are always known to be heavy, dense and rich but this was a change from the normal ones.