This will be a collective post of all mooncakes I've made over the past few years.
As we get older, we don't eat as much mooncakes like how we used to. We'd buy alot of boxes, and see them in the house over a couple of weeks. But over these few years, we don't buy as much. Mainly cause it's getting more and MORE expensive, and also partly because I make them too. I don't make much, just to give my grandma, for home consumption and to share with friends when we go out for drinks.
I've actually made mooncakes in 2007 (not too sure if I actually made them in 08 ) and 09. (and sold quite a few too) This year, I've decided not too. Haha
To read more about this festival, please click here.
This was a deep fried flaky mooncake. It's suppose to "open up" after frying it. If u look at the one at the back, it doesn't open as much as the first. Cute eh? made in Sept 2007
Next, what do we have
Snowskin Green Tea Lotus filling with custard ball
I actually never knew where to get those egg yolks in mooncakes, so, custard "balls" seemed like a pretty good solution to it!! haha
Snowskin mooncakes are easier to make. Though getting the right taste and consistency is not easy, but at least baking or frying is not required!
Oh wait! I was wrong! I actually started making in 2006 ! gosh, time DOES fly!! I was still in Sydney at that time and Mooncakes are not so extensively available in every shopping centre like how they're here. And it wasn't even easy to get lotus paste for mooncakes. Ok maybe there were but I obviously don't know where to get them. tee hee.
So had to make the filling myself !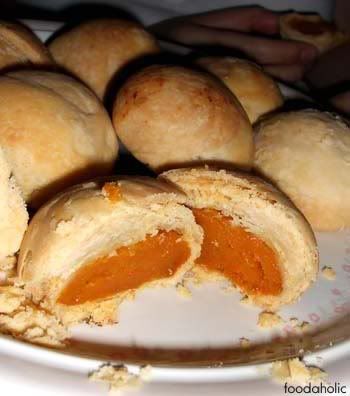 It was a Baked Sweet Potato and Pumpkin Mooncake. Recipe was from this site.
When u're desperate to make food that reminds you of home, you'd do whatever it takes. Lol
*I just realised that up until now, the skins are all different!! pats back*
This, will be a baked flaky mooncake. The filling was redbean and dried longan. If you are familiar with sushi mats, u'd know how big these little morsels were. Probably just 2.5 inch diameter. Making flaky mooncake with different colour on the exterior are fun. Cause they look so pretty! (If turns out right). And you don't need moulds for it.
Ah!! how could I ever forget these. This was what I meant with the different layer of colours! They don't look like traditional mooncake, but rather cake pops or planets. HAHA
And somewhere between this few years, I've also made some other types of mooncakes but they just never appear. I can't remember where the pictures are. So……
Well anyway!!
Happy Mid-Autumn Festival
Just before I end, while looking through the archives from the old blog, it was really fun. There were good and bad comments from people around, but it's a free world. 🙂
I'd rather someone give more constructive critism than to say "oh good job / nice / well done" when it clearly wasn't good at all. We can all at least be honest, not every thing in every blog looks good or turned out well. Ok Nothing bye!