Giving the sweet tooth a rest.
Well, not so much actually haha since it's loaded with honey (no maple syrup at home)
Pancakes are really easy to whip up and to cook them. It's versatile that you could add alot of extra things you want, to make it sweet or savoury.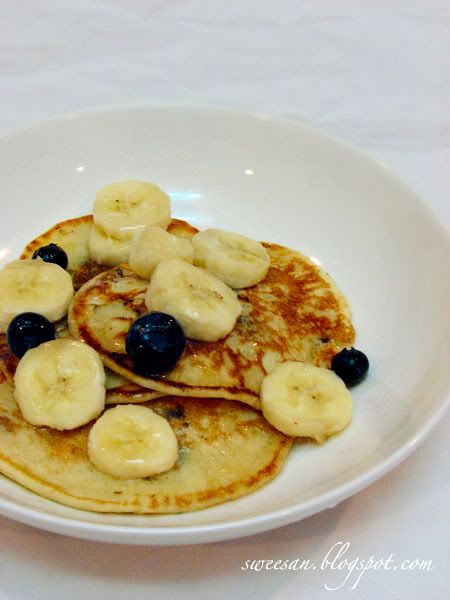 Breakfast Pancakes Recipe
(adapted from Nigella Lawson's How to be a Domestic Goddess)

225g flour
1 tbsp baking powder
pinch of salt
1 tsp sugar
2 eggs, beaten
30g butter, melted
300ml milk
butter for frying

Method
1. Blitz everything in the food processor.
2. Pour into a jug and leave for about 20 minutes before using it.
3. Heat up saucepan and coat with a little butter. Pour pancake batter in pan and add blueberries or bananas if you want.
4. Once the upper side of the pancake is blistering and bubbling it's time to cook the second side, and this will take about 1 min.
5. Continue till all batter has finished. Serve with maple syrup or honey and perhaps crispy fried bacon or something.