Peanut Cookies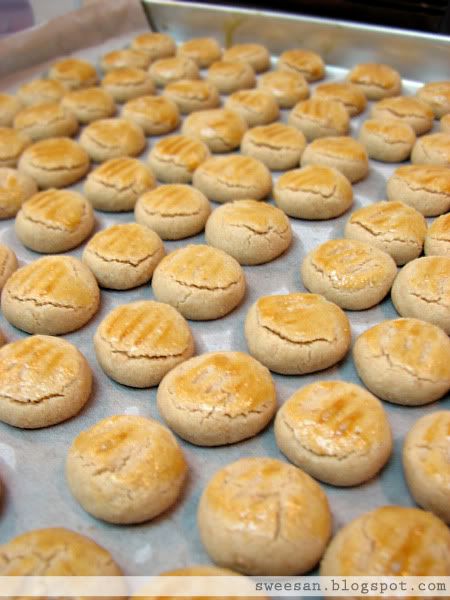 150g peanut (without skin)
50g Icing Sugar
1 tsp salt
170g Flour
½ tsp Baking Powder
½ tsp Corn Flour
80ml Corn oil (or other vegetable oil)
Roast peanuts in a 150 C oven for 15 minutes. Remove from oven and leave to cool. Meanwhile, increase temperature to 170 C.
Grind peanuts in food processor till resembles fine crumbs, the finer it is, the smoother the cookie is. But becareful as peanut is naturally oily, try to avoid over-grinding it.
Mix all dry ingredients together and whisk. Make sure everything is well incorporated.
Add in corn oil and mix till it resembles a dough.
Measure each piece at 5g (or more if you want a bigger cookie, but I find this size is just right) Roll into balls and press top lightly with fork. Brush with egg yolk wash and bake for about 15 minutes or till brown.
Recipe by
The Sweet Spot
at http://thesweetspot.com.my/?p=322
Bad Behavior has blocked 1408 access attempts in the last 7 days.